/assets/MEE/svg/default.svg
Donor Profile
Donor Profile
Wyc Grousbeck and Emilia Fazzalari
Taking Down Blindness and Deafness Brick by Brick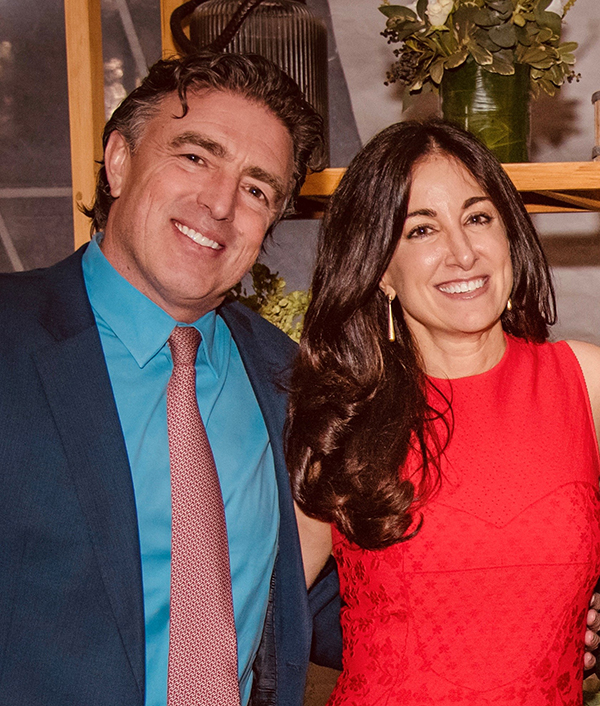 Wyc Grousbeck knows how to fight for what he believes. He became Chairman of Mass Eye and Ear in 2010, and vowed to charge forward with the hospital's nearly 200-year-old audacious goal to eradicate blindness and deafness. Wyc conceptualized, launched and co-chaired Bold Science. Life-Changing Cures, Mass Eye and Ear's historic campaign to accelerate research and find cures faster.
Determined that Mass Eye and Ear boldly execute that vision, Wyc immediately committed $5,000,000, with backing from the Grousbeck family, the first of many significant gifts he and his wife Emilia Fazzalari would make. "Wyc set the bar high and others took notice," said John Fernandez, President of Mass Eye and Ear. "We originally aimed to raise $100 million, but by the time the campaign went public in 2015, we knew we could do so much more." Witnessing the campaign's impact and the pace of research progress, Wyc asked the Mass Eye and Ear community to dig deeper. "It was awe-inspiring," said Wyc. "I knew we could double down and go for $200 million."
The promise of gene therapy to cure those afflicted with inherited blindness is personal for Wyc, whose son Campbell was born blind. The Grousbeck family's generosity founded the Grousbeck Gene Therapy Center, a world-leading center developing treatments to replace or repair defective genes. The Grousbecks also endowed the Grousbeck Family Chair in Gene Therapy for Luk Vandenberghe, PhD, the Center's Director.
Wyc and Emilia's generosity hasn't stopped there. They co-founded the annual Sense-ation! Gala and are top sponsors every year. In 2019, they funded the Fazzalari-Grousbeck Chair in Otolaryngology–Head and Neck Surgery held by facial nerve pioneer, Tessa Hadlock, MD. And in 2020 when the COVID-19 pandemic hit and Dr. Vandenberghe began developing a genetic vaccine, Wyc and Emilia were the first to endorse it with a $1,000,000 gift. "We didn't hesitate for a second. We are honored and privileged to partner with these brilliant innovators," said Emilia.
"Wyc's an overachiever, so I am not surprised the campaign exceeded an astounding $250 million," said John Fernandez. "It's game-changing. He is a great leader."
Related Reading