/assets/MEE/images/mgb-default-thumb.png
Mass Eye and Ear
Music Therapy
Music Therapy is a clinical discipline that incorporates the use of evidence-based music interventions within a therapeutic relationship to address individual patient goals. At Mass Eye and Ear, Music Therapy may be provided to patients and their families at bedside or in group settings.
A session with a music therapist can be helpful for patients or family members experiencing anxiety, nausea, pain, stress or mental health distress such as isolation or hopelessness. Music Therapy may also be beneficial for patients having difficulty coping with hospitalization, their medical condition, or loss of sensory functions.
---
Contact Information
Email Music_Therapy@meei.harvard.edu if you have any questions or would like more details about Music Therapy at Mass Eye and Ear.
About Our Program
Music Therapy incorporates the use of evidence-based music interventions within a therapeutic relationship to address individual patient goals. Board certified music therapists systematically effect non-musical outcomes in cognitive, behavioral, social-emotional, psychological and physical domains.
Music therapists use interventions such as songwriting, composition, active music-making, improvisation, singing, instrumental play, music listening and lyric analysis to reach a wide range of physical and mental health needs.
In medical settings, Music Therapy can:
Encourage changes in mood and emotional states
Aid in relaxation/sleep
Provide opportunities for nonpharmacological management of pain and discomfort
Provide motivation
Alleviate fear and anxiety
Encourage active and positive patient participation in treatment
Provide motivation and support to reach rehabilitative goals
Teach healthy coping skills
Help those with limited family/social supports
To learn more about music therapy, please visit the American Music Therapy Association web page at
musictherapy.org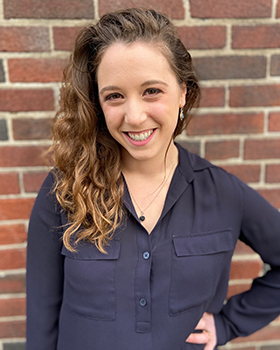 Peri Strongwater, MA, MT-BC joined the Mass Eye and Ear team in January 2020 as our first board-certified music therapist. She is also currently working in mental health, facilitating music therapy sessions on the Inpatient Psychiatric Service Unit at Mass General, and in private practice where provides music therapy programs for early childhood development, multigenerational communities and individual children and adults with behavioral or mental health needs.
Peri received her bachelor's degree in Music Composition and Psychology from Skidmore College in 2011, and worked briefly as a film/tv composer in New York City before realizing that her favorite part of music was making it with other people.
She moved to Boston in 2013 and in 2015 launched her small business, Strongwater Studios, offering music services and programming to the community. In 2018 she received her master's in Mental Health Counseling with a Specialization in Music Therapy from Lesley University, after completing clinical placements at Newbridge on the Charles, where she worked with geriatric patients in Assisted Living and Memory Care Assisted Living, and Pelham Academy, a therapeutic residential school that provides treatment and education to adolescent females with emotional/behavioral issues, mental health disorders and complex trauma histories.
You will likely see her in the halls and elevators at Mass Eye and Ear with a guitar on her back, but she also plays the violin, viola, ukulele and piano.
Peri's experience and background inspire a cognitive-behavioral and trauma-informed approach in her music therapy treatment, often supporting patients in using music-based strategies to develop long-term coping skills to support emotional regulation. She is a member of the American Music Therapy Association and has presented at local and regional conferences.