/assets/MEE/images/mgb-default-thumb.png
Phone number for
For more information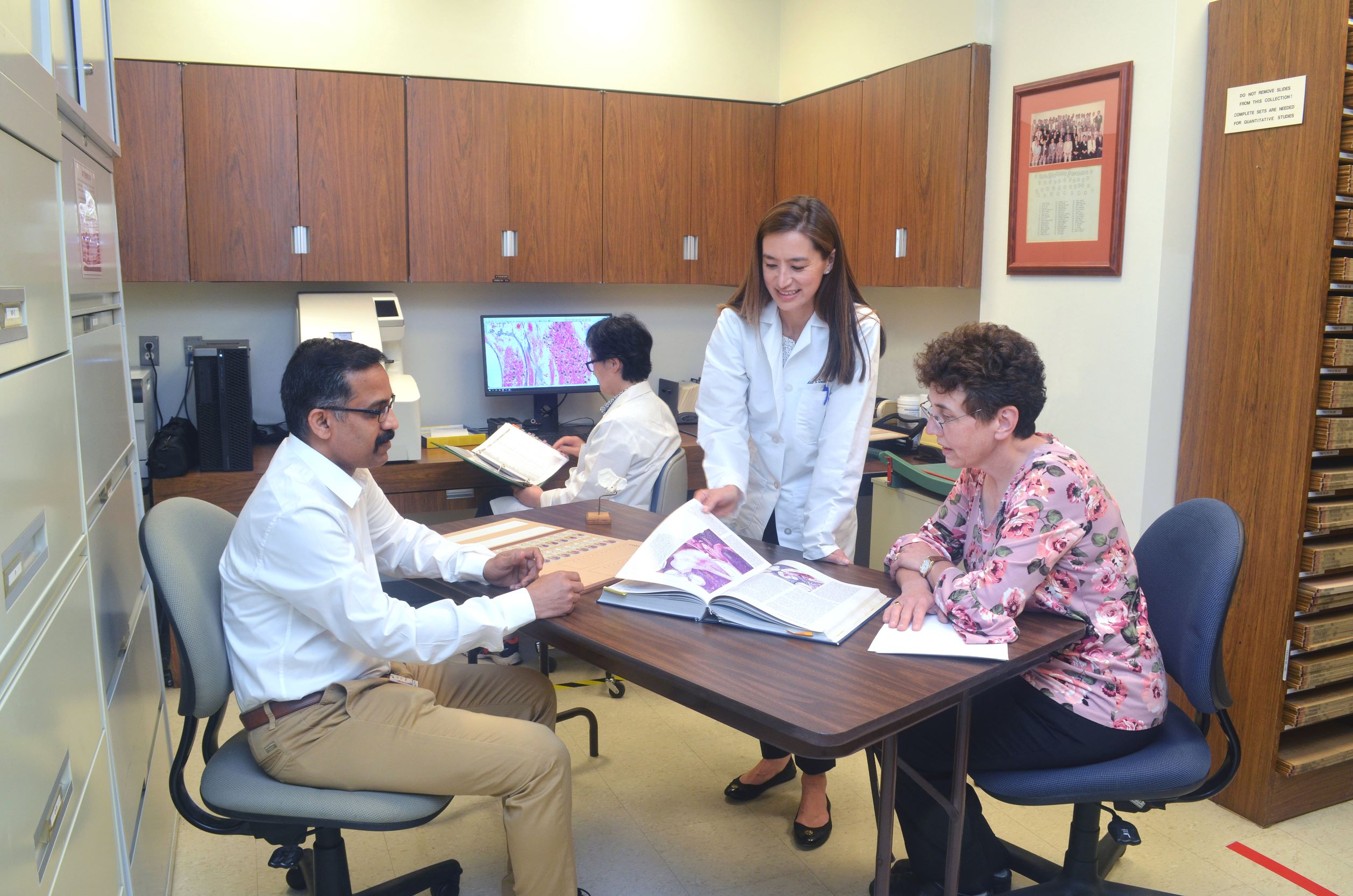 The Otopathology Laboratory at Mass Eye and Ear is a basic and translational human temporal bone pathology laboratory with a mission to improve the diagnosis and treatment of disorders causing hearing loss, balance dysfunction and facial paralysis.
Overview
Research projects in the laboratory are currently focused on cochlear implants, auditory brainstem pathology, quantitative vestibular otopathology, biology of the spiral ligament, genetic deafness and the molecular basis of otosclerosis.
Who We Are
Our staff, which includes specially trained researchers, investigators and post-doctoral research fellows, works to understand the pathology of the inner ear in order to find new treatments and cures for problems associated with hearing and balance.
Our investigators are assisted by a research staff that includes laboratory manager Anbuselvan Dharmarajan, MD, MPH, senior research technologist Meng Yu Zhu, MS, and research scientist Jennifer O'Malley, BS.
Directors
Andreas Eckhard, MD
Alicia M. Quesnel, MD
---
Investigators
Elliott D. Kozin, MD
M. Charles Liberman, PhD
Joseph B. Nadol, Jr., MD
Aaron K. Remenschneider, MD, MPH
Felipe Santos, MD
---
Founder
Harold F. Schuknecht, MD
---
Former Directors
Harold F. Schuknecht, MD
Saumil N. Merchant, MD
Joseph B. Nadol, Jr., MD
The Otopathology Laboratory was established in 1961 by world-renowned otologist Harold F. Schuknecht, MD. As the former Walter Augustus Lecompte Professor and Chair of the Department of Otology and Laryngology at Harvard Medical School (HMS), Dr. Schuknecht is best known for his teachings and scientific contributions, which profoundly influenced the practice of otology and otopathology in the latter half of the 20th century.
With the imminent retirement of Dr. Schuknecht, Saumil N. Merchant, MD, was recruited in 1992 to continue traditional light microscopic temporal bone research. Dr. Merchant was a world-renowned clinical otologist, otopathologist, teacher and research scholar who served as the Gudrun Larsen Eliasen and Nels Kristian Eliasen Professor of Otology and Laryngology at HMS and Mass Eye and Ear.
As director of the Otopathology Laboratory, he applied genomic and proteinic analysis as a way to enhance the methodology by which human temporal bone pathology is studied. He was highly innovative in developing a computerized database to store, analyze and retrieve data that included images he made available to the scientific community worldwide.
In 2012, Joseph B. Nadol, Jr., MD, assumed directorship of the Otopathology Laboratory following Dr. Merchant's sudden passing.
In 2021, Alicia M. Quesnel, MD, was named the fourth director of the Otopathology Laboratory. She had previously been an investigator since joining the HMS faculty in 2012.
Andreas Eckhard, MD, joined Dr. Quesnel as the laboratory's co-director in 2022. Several years prior, Dr. Eckhard had completed a research fellowship in the Otopathology Laboratory before returning to Switzerland to complete his clinical training. Dr. Eckhard was recruited back to Mass Eye and Ear from University Hospital, Zurich, to become an Investigator in the Eaton-Peabody Laboratories and join Dr. Quesnel in shaping the future research direction of the Otopathology Laboratory.
Human otopathology research requires uniquely trained individuals. The traditional otopathologist is a clinician-scientist (otologist or neurotologist), but individuals holding a PhD in relevant fields such as molecular biology can also pursue otopathologic research once they have sufficient grounding in the relevant basic sciences and are provided with a clinical link. The translational research potential of otopathologic research is vast, so it is imperative that new investigators be trained and encouraged to take up careers in temporal bone research.
Research fellowships in the Otopathology Laboratory are awarded to qualified individuals from both the medical and basic science fields. Positions are available to medical students, residents in otolaryngology or related specialties, as well as to pre-doctoral and post-doctoral PhD candidates in the hearing and vestibular sciences.
Candidates interested in research training and fellowships should contact Alicia Quesnel, MD, or Andreas Eckhard, MD, co-directors of the Otopathology Laboratory.
Related Resources
Did you know?
Our temporal bone collection has been the basis of more than 400 original articles, book chapters, reviews, editorials, and books devoted to the anatomy, pathology and surgery of the ear.

Among those book are classic texts such as "Pathology of the Ear" (Schuknecht, 1974, 1993; Merchant and Nadol, 2010), "Surgery of the Ear and Temporal Bone" (Nadol and Schuknecht, 1993; Nadol and McKenna, 2005) and "Anatomy of the Temporal Bone with Surgical Implications" (Gulya an Schuknecht, 1996, 1995; Gulya 2007).
Contact Us
Tel: 617-573-3534 | Fax: 617-573-3939